Post by saspurs on Feb 10, 2018 0:36:59 GMT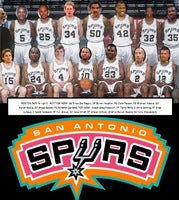 Spurs 1994 season was 'the legends' year, bringing together many veteran All-Stars to have a fun 'last hurrah' season before toying or committing to retirement. We were just a .500 ball club, but did take Portland to seven games in Round One of playoffs. Needless to say, we knew this year would be a rebuilding stage, and try to plan on a long term successful team. While most of the off-season we did accomplish many goals, we still are most likely not in the 'elite class' of West teams like LA, Denver, Portland, but I think we should get a playoff berth.
Returning PlayersRalph Sampson:
Final Year of contract. Second straight year with season ending injury. He is slowing down, but still always going to be my numero uno until he calls it quits
Terry Mills:
Signed long term a year ago, and then relegated him behind the Legends. He should be #1 scorer on this squad moving forward...be it starting or off the bench. Mixing defense/rebounding with scoring might make him 6th man, and PJ paired with Elliot in starting lineup.
P.J.Brown:
One priority was to lock him in long term at a reasonable rate. We feel we did that in a 6r, $30m. Good Defense and can play 3/4/5
Chris Gatling:
2nd priority for long term deal, same as PJ. These two are locked in together for a while. Very good low post scorer, and rebounds/defends well. Need him with Sampson waning and only allowed to play 30minutes max.
Bruce Bowen:
Used less last year, he will be on the court more, mostly at SG to defend and help rookie McKie groom to another strong 2 defenseman.
Drafted Rookies:Aaron McKie:
Truthfully not the player we wanted, as we were looking at Donyell Marshall. But McKie is almost a 'Bowen' clone...should be good defense and can knock down the 3. Should see good time at SG this year
Cory Alexander:
Bigger guard that played point in college, but we are moving him to SG. Great 3-pt shooter, and decent handles/passing, but not good enough to play point in our opinion. Takes place of Vernon Maxwell but with less 'chucker' mentality.
Players signed in FA:Sean Elliot:
Had plenty of cap to spend, and was deciding between star-quality SF or PG. The price was right to grab Elliot...and hope he is the key player to build around. Coming off a season-ending injury, but typically he is durable and can play heavy minutes, and produce in all facets of the game. (Was looking at him or Kukoc, but Toni was a little more expensive)
Michael Adams:
Given how some of the veteran elite PGs prices came down, it might've been better to spend in that area instead of SF. But we landed a decent PG, although not super spectacular in passing or handling. He can hit the 3, which we didn't have before, so teams shouldn't be able to collapse without our guards making them pay. Adams is a little inconsistent, but should fill the PG minutes for us this year.
John Paxson:
A cheap veteran with good handling skills (for playing Lakers and Nuggets), and 3-pt ability. Not a strong defender, but our 2 guards bring it hard in the backcourt to help this deficiency.
Vinny Del Negro:
Kinda like Paxson, but at the '2'. Good handles, decent 3-pt shot, and has intangibles that makes him worth a roster spot, as he'll never kill you when on court.
Byron Houston:
Raw, big 'little' man. Has tremendous skills for rebounding and block/steal, in a 6'5" body. Need time to develop, and depending on the season, could see minute behind Elliot.
Brad Lohaus:
Another stretch 4 on the roster, with decent handles for his size. Might be limited on playing time unless injuries appear
Armen Gilliam:
Always wanted the 'Hammer', but usually was log-jammed at PF..and still am this year. But I think he can play the C position....and can score/rebound fine there. He is 3rd in depth for C, but given Sampson's injury-proneness, he could find time, and I think can produce.
Winston Garland:
Very good PG to get for minimum price. He has same skill set as Michael Adams, but with less of a 3-ball shot. He can score though, and has played very well in the past as the 2 guard for teams. He should be #2 PG for the season.
Players not returning:Larry Bird:
Had a good year for us....but joins the evil Lakers..so disappointed they landed him, as he still can bring game.
Walter Davis:
Sir Walter retired....but should always be mentioned in top-five GAH players of all time...albeit no rings
Melvin Turpin:
Was willing to bring him back if Gilliam didn't sign. He still produces from the bench well
Kevin McHale:
He played well and from our bench led the league in FG% again. Defense has waned to non-existence, but he still can low-post score
Norm Nixon:
He showed he didn't have the same gas to start and play large minutes. He did however not embarrass himself last year, and has come back to try and latch on with a team once more.
Brad Davis:
Brad retired, and didn't get much time until we had injuries. Had a great career and was time to hang it up.
Vernon Maxwell:
We liked Mad Max always as a bench spark plug. We contemplated protecting him to get him back for long term, but Miami was where he landed. Interested to watch what he does with the revamped Champs.
Cedric Maxwell:
Limited time last year...he still can draw fouls and convert. Rest of his game has waned...but he is back looking for a team.
Fat Lever:
Ended up being our starting point last year, and he doesn't have great passing or handles to do that, but the defense is still there. He should still be effective player for the Sonics, where he signed.
Larry Nance:
Was kinda hoping to bring him back as this was his first home as a rookie.....but the new direction just didn't have room. He goes to the Bulls, which is a great spot to try and grab a ring. That team looks like they might not allow 70pts a game average...so hope Larry well.
Overall Guesstimate:
Probably another ~.500 ball club. The fact that we can effectively shoot 3s from four positions all game long is intriguing. But play making and ball control will be where we have the achilles heel. Never know though, as we can really mixup lineups and depth and always have inside O, outside O, rebounding, and defense on the floor. We can shoot FT very well, but we have few players that draw many fouls. Also, our blocking is probably the worst we have had since I have been GM.....but defense isn't only about the blocks.
Proposed Starting Lineup: Ralph Sampson - P.J. Brown - Sean Elliot - Bruce Bowen - Michael Adams
ljw
SAS