Post by mgtr81 on Dec 11, 2013 17:55:22 GMT
No one was sure what to expect from the
Golden State Warriors
a month ago. Most predicted a trip to the lottery, while some hinted at the chance of being a competitive squad making the playoffs. But very few, if any, could have imagined a 12-3 start for the
Oakland
based franchise. After one month of competition, the Warriors lead the
Pacific Division
, are second in the
Eastern Conference
behind the 11-2
New Orleans Pelicans
and third in the
NAH
behind the 15-1
Boston Celtics
and the aforementioned Pelicans. And of the three losses, two have been at the hands of New Orleans and Boston, while the other one was at
Brooklyn
against the 11-3
Nets
.
With a team who lacks a media-friendly player or superstar, head coach
Mark Jackson
has been doing a great job in trying to make their players perform at their best.
Andre Iguodala
, who was the first player selected in the dispersal draft by the Warriors, is averaging 18.3 points, 5.5 rebounds, 5.2 assists and 2.7 steals per game, while shooting 46.8 % from the field. The most criticized Warriors selection in the dispersal draft, point guard
Mario Chalmers
, is having a great start to the season: 18.1 points, 4.3 assists, 3.2 steals and 3.0 rebounds per contest. And surprisingly, Chalmers is knocking at the door of the 50/90/40 club, as he is shooting 53.7 % from the field, 88.4 % from the free throw line and 39.7 % from three-point range. Both Iguodala and Chalmers form and outstanding defensive backcourt, combining for 9.2 forced turnovers per game and stopping 97.6 % of the 47.6 drives they face per game.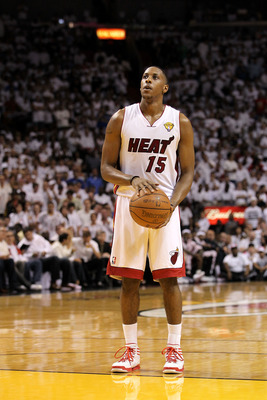 Could Mario Chalmers join the 50/90/40 club by season's end?
But not only is the Warriors backcourt doing great.
Spencer Hawes
is averaging 15.1 points, 8.9 rebounds, 1.5 assists, 1.5 blocks and 1.0 steals per game, while shooting 47.6 % from the field. Veteran forward
Shawn Marion
is still delivering 15.1 points, 6.9 rebounds, 1.8 assists, 1.3 steals and 0.7 blocks, shooting just 41.1 % from the field but a very good 43.5 % from outside the arc. Starting power forward
Taj Gibson
is contributing with 12.5 points, 7.2 rebounds, 1.9 blocks, 1.0 assists and 0.9 steals, while converting 47.9 % of his field goal attempts, while reserve big man
Udonis Haslem
is posting 7.6 points, 7.4 rebounds, 1.4 steals, 1.1 assists and 0.4 blocks in 28.5 minutes per game, as his playing time has increased over what was expected as consequence of
Marreese Speights
injury at the start or the season.
But it is the team play where the Warriors are really getting it done: specially on the defensive end. The team ranks tied for second in points allowed per game (93.3), second in steals per game (13.2), second in forced turnovers per game (20.9) and tied for fourth in rebounds per game (45.1). Of course those numbers do not take pace into account, but gives an overall idea of the team's attitude on the court.
The season is long and this has just started, and the goal for the team remains unchanged: to be competitive, fight for a playoff spot and learn and make the adjustments needed to be a stronger team next year. Anything else which could be achieved this season would be a bonus.