Post by Cleasby on Nov 17, 2013 15:59:42 GMT
Detroit Draft Round Up

Hello and welcome. We have exclusive access behind the scenes of the Pistons draft HQ as they continue their search for a brand new roster following the disbandment of the NBA.

1st round draft selection

PG Deron Williams


The first round saw the Pistons select high up the order at number 9. With this the Pistons scouting had identified Deron Williams as their new franchise face. Apparently the Pistons were also keen on Dwight Howard thinking that he might possibly be floating around at number 9 due to his contract being short. The Pistons were also keen on Kevin Love as Cleasby loves to have a good handling efficient big man but he was also gone. So the Pistons elected to take the next best PG after Chris Paul in Deron Williams. Deron was seen as the perfect person to build around. Whilst he is the wrong side of 25 for most franchises he has a great ability to read the floor play good defence and also score the basket at a good rate. He is also the kind of player who can fit any system and Cleasby was delighted to have grabbed such an established star to begin his reign in Detroit. Even as Deron gets older his vision should not decline and he will be excellent value for the length of his contract at least.

2nd round draft selection

PF Serge Ibaka

This was certainly seen as a no brainer by the guys at draft hq. Whilst Steph Curry was the number one target here closely followed by Drummond and Noah Ibaka was seen as a nice fit. Cleasby did love the thought of a backcourt involving Curry as his range and scoring potential would have been fantastic. However Ibaka was noted to be a good lockdown defender and he has the ability to play both the 4 and5 positions. This would allow the Pistons to have a greater range of flexibility later on if a steal were to come up. Again the Pistons want to build a tough defence philosophy and the thought was that Ibaka fits this mould perfectly. Plus the guys from finance noted his contract is low this year at approx two million which would mean an experienced veteran on a big expiring (Manu Ginobli's name came up here) could be snagged later on in the draft.

3rd round draft selection

SF Gordon Hayward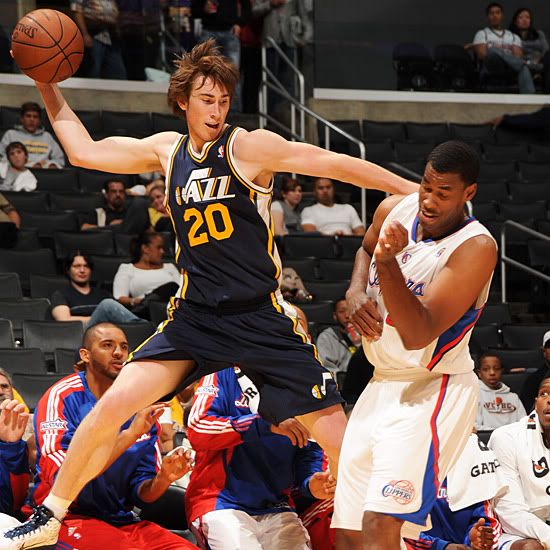 The Pistons really really wanted Tyson Chandler at this point. The prospect of sealing up a tough frontcourt was seen as the main priority. Unfortunately that was not to be as Chandler went a lot higher up than predicted. Next the focus was on Iman Shumpert who the Pistons coaches had worked out the season before and said that his summer league performances meant he could breakout this year. However Cleasbys fierce rival Stockton snagged him from underneath. This lead the Pistons team with a real dilemma. It was down to two guys, Andre Kirilenko or Gordon Hayward. The split was 50/50 among the staff. Some wanted Kirilenko because he was a versatile bigman who can play on the wing or post and his contract was reasonable. The other side of the room wanted Gordon Hayward, they felt Kirilenko was too old to be of any future worth and he would be a round too high. They like Haywards ability to play both on the wing and as a guard. Whilst not as good a defender as Kirilenko Hayward was younger and cheaper and had room to grow. Cleasby had a tough choice he said he was an admirer of both players and in an ideal world would want both. After this Cleasby sighed and said I think my gut says Hayward.

4th round draft selection

PG Jose Calderon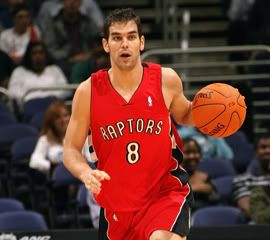 With a few guys picked the main debate wasn't really the player but the position. Cleasby coming from a European franchise background was adamant the franchise needed another point guard to run a good handling backcourt like his Championship winning Panathinakos team. He said to me that it would be devastating in a league like this as most shooting guard are too explosive and not as intelligent with the ball. If you can have two guys you can set with the angles that can be created are unlimited. Cleasby was very keen on Jose Calderon. A European guard who had spent most of his time on a poor Toronto team. The scouting staff made it clear there was no way Calderon makes it past the late 4th round to them. Too many teams needing a guard will snap him up. Therefore they had said Kirilenko who was still available could be the best option. The team also mentioned Joe Johnson but then someone looked at his contract and tore that idea up. The Pistons waited thinking Kirilenko was their man. Drafted less than five picks before them. Damn what will we do now one scout said. Rotten luck or was it? Calderon is still on the board another scout said. Can't be right? Cleasby remarked. Double checked yep he was still there. Then what are we deliberating about pick him! Cleasby shouted.

5th round selection

PF Luis Scola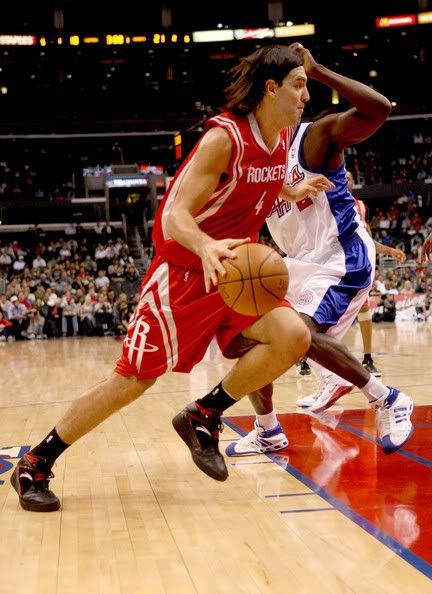 This one was a easy decision it appeared for the Pistons. Whilst a few other post players are still on their board for later on in the draft Luis Scola was seen as the ideal compliment to Ibakas rough style. Whilst Scola was noted as not being a great rebounder he is a good efficient player who can defend his man and can handle the rock. Again whilst the Pistons noted they will need some more explosive talent later on Cleasby was very keen on stressing they want to get intelligence first as this is something that is harder to teach during a long season. He said "for us to be a winning team again we have got to be sure we have guys out there who know their role and what is expected and can effectively understand what the coach wants". One of the coaches who was with Scola at Houston was delighted by this pick stating he has been the most underrated player in the league for the past few years. At 32 Scola has been the oldest selection by the Pistons so far.
6th Round Selection

SF Tayshaun Prince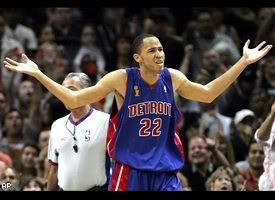 This pick was much debated in the front office. With a possible starting five already secure any direction was possible. Kendrick Perkins was high on the list here as Cleasby was keen on getting another defensive minded post player in the mix and Perkins could have played at both the four and five. There was also a suggested Kirk Hindrich might drop here which would have added another range to the backcourt. However one Pistons coach who has been here for forever (he looked at least retirement age) said how about Tayshaun Prince? The team looked around at each other and seemed to be in consensus that Prince would be a solid glue guy for bench and could also push rookie Hayward for a starting position. A long term contract for a guy who will likely stay as a Piston for a long time.

7th Round Selection

C Brendan Haywood


Oh how badly the Pistons staff wanted Perkins to drop. He was close to being picked the previous round by them and he was seen as the next rotation piece that would fit. That was until Cleasby got off the phone to his good friend Lakers GM Jestor. "We have no chance of him falling Lakers have made their intentions clear they want him" Cleasby said. There was a general murmour that the Pistons wanted to take another key big before the crop got too shallow. Greg Oden it appeared was too much of a risk and the other option Udonis Haslem appeared to not have the defensive dominance Detroit were after. Brendan Haywood was the next suggestion. A solid defensive player who can draw fouls and shoot a good clip. The scouts noted that whilst he is 32 he has proven experience and at that contract Cleasby declared he was a "bargain".

8th Round Selection

PG Tony Wroten


At this stage of the draft talent was clearly becoming very flat. You either paid over the odds for a talent or you take a project and hope he improves in value. The Pistons had looked to Ronnie Brewer to be that person. A defensive guard with height who would be a nice fit next to Calderon and Williams. However ideas were quickly change when the Bucks took him off the draft board. Cleasby had suspected this might happen but the team had to quickly adapt to this new challenge. Cleasby who has seen Tony Wroten play at college the year before instantly became the next candidate to be taken by Detroit. Probably never going to be a top guard in the league but his height is nice and we will see if he can prove good value by stashing him in the d-league and improving his skills Cleasby said.

9th Round Selection

PF Louis Amundson

It was evident that the Pistons wanted to take a post player next. Whilst Scola, Haywood and Ibaka will eat up most minutes, the Pistons wanted someone as an insurance incase any of the three suffered an injury. Amundson who is know as a player with one role to grab rebounds was the obvious choice Cleasby suggested. The finance team loved this move especially as Louis only has a year guaranteed on his deal which could be a cost effective move for a player who will have very limited game time.

10th Round Selection

Dominic McGuire

At this point in the draft it was clear that pickings were very thin. Whilst most Detroits coaches were keen to bring Billups back he was gone a few rounds earlier. Again Cleasby and co looked for a cost effective back up. However unlike the previous round most solid veterans had been taken. It was either take a rookie who would be erratic, some scouts said Draymond Green a local boy could thrive at Detroit. Or take a veteran who can be solid in limited minutes but with no potential. Dominic McGuire one coach said has the ability to play defence and grab a rebound or two if need be. But don't ever expect him to shoot the ball!

11th Round Selection

Drew Gooden


At this Point Detroits GM Cleasby had decided to head off for a much needed break. Only to find the staff left in charge had decided to take on Drew Gooden and his eighteen million dollar contract. There were some harsh words exchanged between both Cleasby and his staff but when the team looked at Gooden they realised he wasn't too bad a pick this late on and he may well compete with Amundson for the back up post role. Plus at 30 years old he will at least be solid for his contract.


To be continued......