Post by querejeta on Nov 19, 2013 20:37:54 GMT
Presentation of Q's new proyect
"
Wellcome everybody to the basketball season 2012-2013
" - as a master reporter of sports would have liked to say! (IHO the great A.M.)
The Denver Nuggets starts another year full of novelties. New GM has arrived to Denver with the priority to make a champ team from zero. He's name is Querejeta and this his first experiences in managing a team in a Dispersal Draft Sim League.
His ambition could give the Nuggets that extra push they need to become a champion franchise, and to success that target he has convince some of the future best players in the league, which has made Nuggets fans feel excited with the season to come.
An Int
ernati
onal BIG THREE
American - Asiatic - European
GREG MONROE - PF
#10 23 years. 6-11 247 lbs. GEORGETOWN
Querejeta has chosen Greg Monroe to leader a team full of young talented players. With 23 years, and only 3 years playing in the elite, he will have to show all the potential this Big Man has. He will have to contribute both in offense and defensive work to make a spot in the Play Offs. He will be the refenrence of the team offensive play but will try to take advance of other teams to pay attention on him to make other give their best.
"Good free throw shooter, but should look to get the line more often... Can also face up and shoot... Has above average passing ability... Above average ball skills for his height...

Excelent rebounder... Plays smothering on the ball defense... Truly a freak of nature in terms of athletic ability, agility and mobility, he simple has the ability to do anything and everything in basketball court he wants to do... Need to develope some sort of low post offensive game, a reliable hook shot from him could be potentially devastating"

JEREMY LIN - PG #7 24 years. 6-3 200 lbs. HARVARD

As the second key player for our particular BIG THREE here it is the new Asiatic Sensation. The phenomenom "Linsanity" has arrived to Denver to make the team run with a crazy speed. He is expected not only to run the ball efficiently but also to sacrifise in defense and be a reference in offense. We want to see this little Taiwanese in the TOP lists of playmaker of the league as soon as posible.
"Effortless shooting stoke... He has great skill to let the ball go early against big men... His free throw shooting must imporve... Really understands the game well for a young PG and excels at passing the ball and finding teammates... He has the versatility to guard on the perimeter and in the post... A tough nosed player with great attitude"
JONAS VALANCIUNAS - C
#17 20 years. 6-11 240 lbs. LITHUANIA
The young Jonas looks at his rookie season with some expectancy to perform well between the best inside players of the worl. But he won't be alone, with Monroe as fellow he will have his opportunity to show his talent and also to learn in some aspects. He will have many important minutes but won't put many preassure on him, he must develope well since we think he will stay for long in Denver.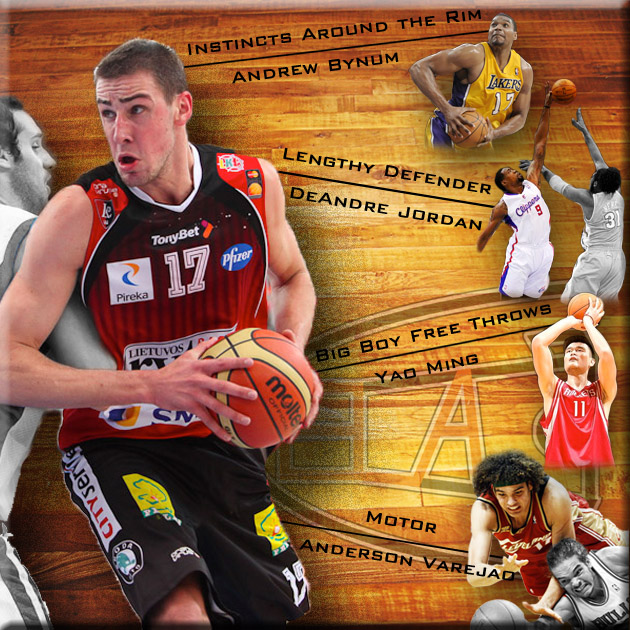 "Find a way to score againts better athletes... Has developed an effective jump hook... Solid free throw shooter, he has improved each year...
Really gets up and grabs rebounds... On dfense this guy is an absolute workhouse... Long arms help with rebounding an make him a good shot blocker... He shows an interest being a vocal leader on the court... One of the most athletics player in all of pro basketball"