Post by gibbs on Aug 4, 2016 11:09:19 GMT
The Bucks free agency has been full of activity, not one to sit on our hands we have strived to create a FA period where we had money in the bank to splash around. It took 2 seasons to make that possible but this was the year to strike and the best part of all this is the Bucks are still under the soft cap if you dont take into account the minimum signings of
Brad Davis
and
Kurt Rambis
. In all honesty our entire focus has been centered around the upcoming contract renewal of
Gary Payton
and
Stacey Augmon
and we think by the time we shed some more salary come years end, plus the fact we dont have a 1st round draft pick in 1992 we will easily accommidate both players. Both players want winning cultures so we think we've at least shown both players that we are doing all we can to provide that.
Charles Shackleford won't be returning to Milwaukee.


The gone and forgottenCharles Shackleford
I hoped this guy would make it big for us, after all we went pretty hard in the trade with Pheonix to make him a Buck which didnt hurt us in the end but Shackleford just wasnt a fit for us in the end.
George McCloud
We intended to resign George as he can be deadly from long range when he is on game but he would be a 3rd string player behind Elliot and Augmon so we elected to let him go once the Elliot deal was made.
Andrew Wiggins
Was signed in the expansion draft much to our delight as this freed up cap space for us. He is a good player and wish him and his new team luck.
MRR
Was waisting time on our bench so it's good to see him find a home at Indiana.
Dave Corzine
Never found consistent playing time so this was and easy decision.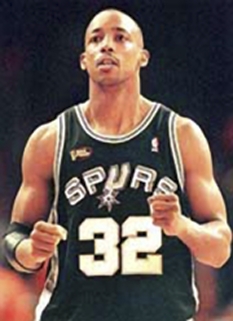 Sean Elliot looks set to have a big impact in Milwaukee.


The New...
There was just 2 criteria that players needed to meet. 1...score heavily, 2... have a good basketball IQ.
Blair Rasmussen
We've peppered Denver for some time about Rasmussen coming to Milwaukee but a deal could never be agreed on so it's good to finally land him. We're happy to bring in a high scoring center to teach Geiger the ropes we just hope he can stay healthy.
The selling point for Blair Rasmussen was the promise of a starting role as center and big minutes.
Sean Elliot
Signing Elliot wasn't actually on our list of things to do but his agent commented that there was little interest and the price is right at just $4,000,000. Like all of our signings they come from successful teams and Sean can score, is smart and will be a long term Buck which is handy if Stacey Augmon decides to leave so the Small Forward position is in good hands here.
Danny Ainge
Out of Indiana we got him on a good deal for 3 years. Will be a good backup to Reggie Lewis and is a likable guy.
Kurt Rambis
Signed a last minute minimum deal as backup to Terry Cummings. Like Ainge he could find himself playing good minutes and again a good all round guy.
Brad Davis
A backup to make a great combination with Gary Payton. We got him on a 1 year minimum deal. An aging star that will have a good impact off the bench.
Rasmussen to be main Buck in the paint.


Starting 5
PG - Gary Payton
SG - Reggie Lewis
SF - Sean Elliot
PF - Terry Cummings
CC - Blair Rasmussen
Next 5

PG - Brad Davis
SG - Danny Ainge
SF - Stacey Augmon
PF - Kurt Rambis
CC - Matt Geiger
Not Mentioned

CC - Dwayne Schintzius
CC - Mike Gminski (long term injury)
This is it for the Bucks, our next free agency period will be based around resigning young stars. We wanted a seriously offensive minded team and we think we have created that. Augmon is capable of playing both SG and SF and Rassmussen can play PF as he has shown in Denver and we're hoping that our new recruits can all bring the success they have achieved from their old teams with them.