Post by crimson on Feb 24, 2014 23:20:46 GMT
Clippers Pathetic Season to Forget
By Donald Tarnish
A Picture is worth a thosand words.
The Clippers were hamppered by injury all season including Brandon Jennings, out most of the year and Roy Hibbert the lasy half of the season. The Clippers have played only a handful of game with evryone healthy. It is hard to judge what they would have done if it weren't for all the injuries to key player but Head Coach Vinny DeNegro is clearly unhappy with his team. The exit interviews this season seemed a somber affair for most players. Expect a big trade to occur with this team with even Griffin being up for grabs. The Clippers will surely have a lotto pick with there pick and are looking for others in exchange for players. Many rumors are being posted around the net. Some say Griffin may be the 1st to go, astonishing as he is clearly the Clippers best player. A former #1 pick he puts up stats that are very impressive and he's still very young. I question why I am trading him and all I can come up with is that I can get much for him and my team won't look like the real Clippers, lol. He isn't gone yet and neither are any other of my players. They may all be here next year to experience my slow paced offense and anything else I can do to minimize injury!
It is known that Blake and Vinny haven't always seem eye to eye this season. (Yes, I know it's Doc)
The Clippers GM has said the team wants to "start over". "This doesn't mean we will give our players away, but we are looking for youth, picks prefered, yes, a new start." The fans won't stand for a "fire sale" and neither will the front office. On to the player exit interviews.
Player reviews:
Brandon Jennings
avareged 17.9ppg, 5.4 assists, 3.7 rebounds and 1.2 steals.
milwaukeecourieronline.com/wp-content/uploads/2010/05/nba-milwaukee-bucks-brandon-jennings.jpg
[/img]
The Clippers front office feels "okay" with Brandon though they hope his FG% goes up. "He is a combo guard and a high scorer," said an assistant coach. He's not what most think of as a "field general" type PG and that may get him a ticket out of town. He might be better at SG. Again, he was injured much of the year and is still young. We didn't get a good look at him really. He's due a big paycheck.
Austin Rivers
averaged 9.4 ppg, 6.2 assists, 3.2 rebounds and 0.6 steals.
Actually a better passer than Jennings he seems better suited at PG though probably off the bench in the future. Coaches like him and he's unlikely to be traded but "everyone on our team is availble," was the word coming from the front office. I was thrilled to see how Austin played this season. He really iS A "FIELD GENERAL" in spite of being dubbed a SG. The Clippers are likely to keep Austin for the long haul.
Jonas Jerebko
A nice surprise for the Clippers this season.
One of the few bright spots that occurred. Jonas got the start and made the best of it to remain at SF for the Clippers. He averaged 10.5, ppg, and 4.0 rebounds while playing decent defense. He's an unlikely player to be moved as in spite of his play he does not draw much attention.
Blake Griffin Clearly the Clippers best player averaging 21.1 ppg, 1.2 assists, 8.3 rebounds 0.7 steal and 0.7 block.


So why would the Clippers trade him. "Because we want to start over and he will bring us the most in trade." "Yes, it will hurt" said the Clippers GM. "But, Blake is the only player we have that could truely give us the new start we want."



Roy Hibbert avarege 12 ppg, 8 rebounds a 2 blocks.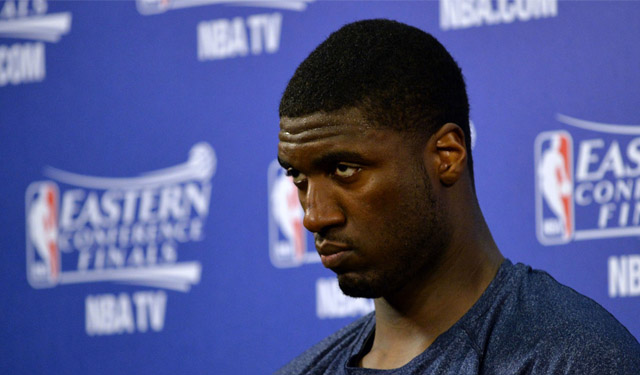 Hibbert is well liked by coaches but his salary is high and coaches like Meyers Leonard also.

The off-season will be very active for the Clippers. They will have at least one lotto pick, their own, and if they trade Blake they should have more. They've had offers for Blake, Brandon, Austin, Brooks and Hibbert. They have considerable cap to attact players to the L.A. area. It may be a whole new team next season. It may be the same team with a star or two added through the draft and free agency. Fans will have to wait and see. It should be an interesting off-season.


Clippers GM loves this league!