Post by ranger74 on Aug 6, 2016 5:25:47 GMT
The Philadelphia 76ers have had a championship-quality team on paper for the last few years. Unfortunately, the combination of personalities and skillsets did not work on the court and the Sixers have languished in the Eastern cellar. With the previous management inseminated, the franchise was handed over to a caretaker as the team sought to translate on paper talent into actual wins. Karl Malone was traded out along with youngster Steve Smith and the legendary Magic Johnson suffered the indignity of being exposed to the expansion draft as the Sixers shed the huge contracts of their biggest names.
In the draft, Philly secured backcourt gunner Mahmoud Abdul-Rauf and backup big man Sean Rooks. With the hard cap room freed up by the exits of Magic and Malone, the Sixers put all their focus on re-signing younger talents Pervis Ellison and Rod Strickland. With those players secured (and the obligatory one more year for Chocolate Thunder), the Sixers were then able to bring in Chris Morris and Kevin McKenna to round out the roster.
So what does the new team look like?
PG - Rod Strickland / Dee Brown
Strickland gets the ball in his hands more often with the departure of Magic (although his new backcourt mate also likes his share of the ball). Brown has been a solid backup since being drafted but will have to fight for those backup minutes with Abdul-Rauf.
SG - Mahmoud Abdul-Rauf / Willie Anderson / Kevin McKenna
The rookie will step straight into the starting lineup, adding much needed outside firepower. Anderson and McKenna are both on their second stints in Philadelphia and have proven solid reserves over their careers.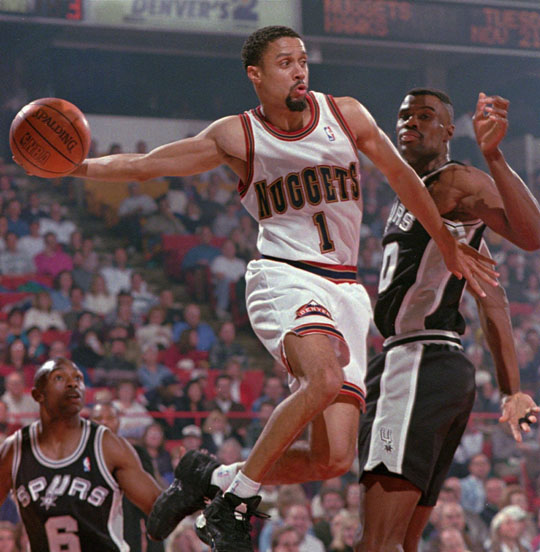 SF - Danny Manning / Chris Morris
Manning will miss the first half of the season and is yet to play for the team that acquired him mid last season. Clark Kellogg will most likely start here until Manning's return. Morris was a solid starter for the Condors last season and gives more than the required depth at the position.
PF - Pervis Ellison / Clark Kellogg / Terry Davis
Ellison quietly began blossoming into a superstar in the latter half of last season, enough for the Sixers to throw their all into ensuring he stayed. Playing predominantly power forward, he delivered regular 20/10 performances with high efficiency and stellar defense. Kellogg is an underrated star in his own right and will play heavy reserve minutes even after the return of Manning. Davis is a solid bench player.
C - Arvydas Sabonis / Sean Rooks / Daryl Dawkins
Sabonis is a unique center and the Sixers are still working out how best to utilize his skills, but the front office is convinced that he is the perfect complement up front to Ellison. Rooks was an early 2nd round pick that will be mentored by the ever present Dawkins while getting minimal minutes.